Your better choice Benikea!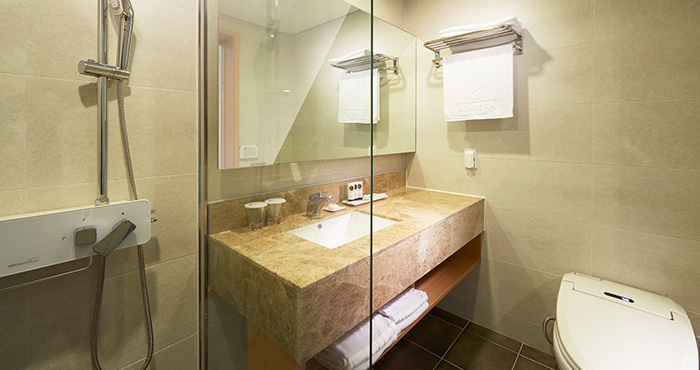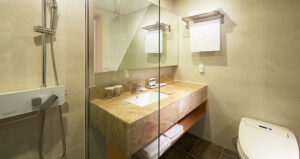 Premier Family Twin

Premier Family Twin Room
The sunny Premier Family Twin Room offers a beautiful view of the Jungmun Beach from Songaksan Mountain and Sanbangsan Mountain. The two double beds in the room will be the best choice for those who want a comfortable bed. In addition, the luxury bedding and bathroom amenities in your room will be a perfect fit for your trip.
| | | |
| --- | --- | --- |
| Room size : 30㎡ | Number of rooms : 9 | Personnel standard : 2인/최대4인 |
| Room type : 1room | Bed type : Double + Double | View : OCEAN  VIEW |
Distinction
Content

Room Facilities

LED smart TV, individual control cooling/heating, bidet, bedding, teapot, refrigerator, hairdryer

Room Service

Complimentary wireless Internet (WIFI), two bottles of bottled water, coffee, green tea, bathroom amenities, etc.
(How to Promote Saving and Recycling of Resources, however, [tooth/toothbrush/shave set] for sale. 3,000 won)
Additional Facilities

-컨퍼런스 룸 (40석 규모)

-비즈니스 센터(프린트/ FAX.가능)

-와인보틀샵 <와인하우스>입점 (호텔 로비층)

-카페 (*오픈예정/ 호텔로비층)

※컨퍼런스룸 이용 안내
– 규모 : 40석 (호텔외부건물 단독사용)
– 보유장비: 빔 프로젝트, 스크린, 노트북 연결용 전원공급장치, 무선 인터넷

-예약문의 : 064-802-8888~8889/ benikeajungmunhotel@naver.com

Check in/Out

C/I 15:00, C/O 11:00

Personnel Surcharge

49개월 이상 11,000원 (침구추가불가)

Breakfast Guide

Breakfast will be temporarily suspended from October 5, 2020 due to Corona 19.
(I'll be back with a better menu. Please understand.)
Distinction
Cancellation fee Regulation (total standard)


시즌동일




체크인 3일전 오후 3시이전 취소시 : 무료

체크인 2일전 오후 3시이전 취소시: 첫 1박요금의 50% 수수료부과

체크인 2일전 오후3시이후~당일 취소시 : 첫 1박 요금의 100% 수수료 부과

노쇼(No-show) 시 : 예약 총금액의 100% 수수료 부과

Deposit account

농협 : 301-0173-3990-31

Depositor

Hanul Co. Ltd
※The above price includes VAT.
※The above price is limited to online reservations.
※The above product is Room Only.